Offshore Fields & Platforms
"Tamar"
Project : Offshore Natural Gas Field
Location : The Mediterranean Sea, Israel
Reserves : 318 BCM
Operation Start : 2013
Shareholders:
Delek Driling 22.0%
Noble Energy (O&M) 32.5%
Isramco 28.75%
Tamar Petroleum 9.25%
Dor 4%
Everest 3.5%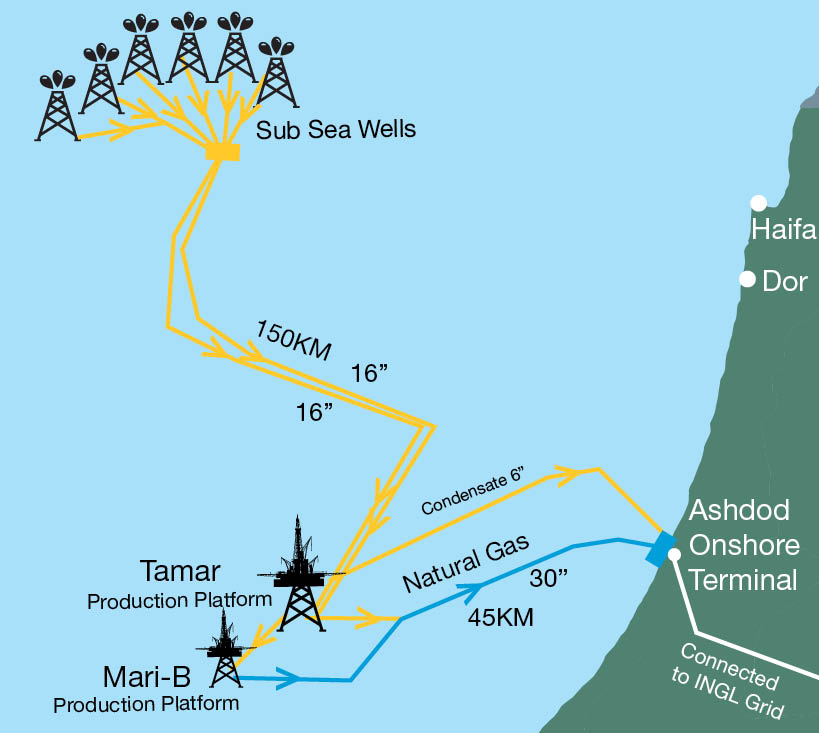 Contractors Involved:
The appraisal wells at Tamar were drilled by the Atwood Hunter rig, a semi-submersible rig owned by Atwood Oceanics.
The contract for subsea umbilicals for the development of Tamar was won by Aker Solutions. The contract for their supply was placed by Noble Energy in April 2010. Under the NKr650m contract, Aker supplied 240km of steel tube umbilicals. The contract also required Aker Solutions to provide subsea engineering and project management services for installing the umbilicals, which were provided from its office in Houston, US.
The umbilicals were supplied by Aker Subsea, a subsidiary of Aker Solutions. They were manufactured at the contractor's facility at Mobile, Alabama,
In April 2010, Noble Energy awarded another contract worth more than NKr300m to Aker Solutions for a complete mono ethylene glycol (MEG) reclamation unit. The unit was employed to assist in removing the blockages in subsea pipelines to be installed at the Tamar field.
The MEG reclamation unit prevents the formation of ice and hydrate and thus avoids the blockage of pipelines. Aker Process Systems, a subsidiary of Aker Solutions, manufactured the reclamation unit. In June 2010, Aker received another order to supply subsea control equipment for the field. The contract was worth Nkr150m.
EMAS was contracted in April 2011 to install umbilicals and subsea equipment for the field. The contract also included supply of subsea suction piles and jumpers.
In May 2011, Alliance Engineering was contracted to design and engineer the Tamar platform and its topsides.
"Leviathan"
Project : Offshore Natural Gas Field
Location : The Mediterranean Sea, Israel
Reserves : 606 BCM
Operation Start : 2020
Shareholders:
Delek Driling 45.34%
Noble Energy (O&M) 39.66%
Ratio 15.0%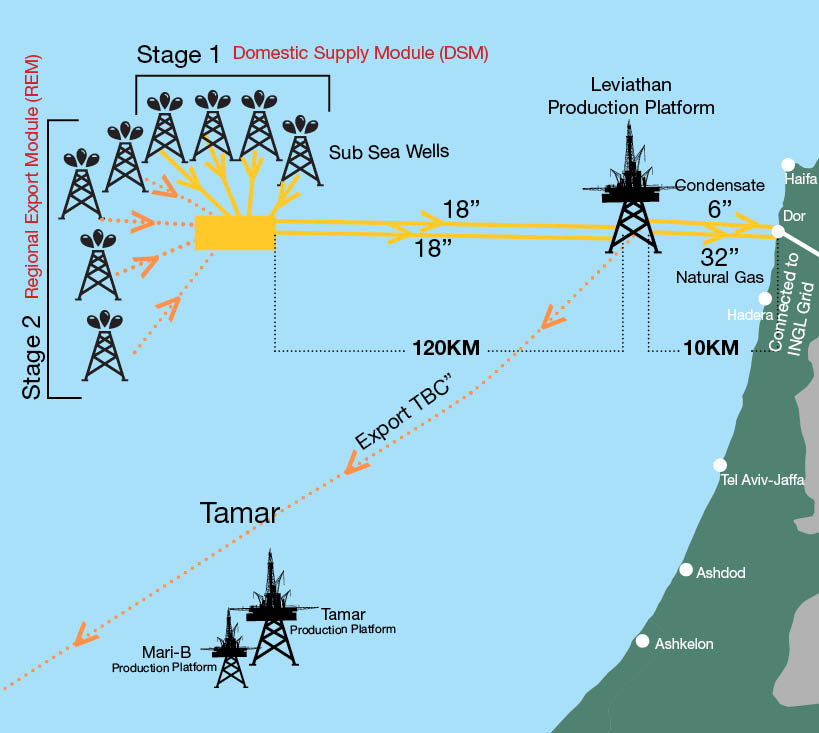 Contractors Involved:
British firm John Wood Group provided FEED and detailed engineering services for the project.
Ensco provided drilling services for the four production wells of the field. The work was executed by the ultra-deep-water drillship ENSCO DS-7.
A crane vessel from Heerema Marine Contractors was involved in the installation works at the field. Sleipnir, the world's largest semi-submersible crane vessel, installed two topsides on the platform.
Heerema awarded a sub-contract to EEW Special Pipe Constructions to make 16 pin piles for the Leviathan gas rig.
Trendsetter Engineering, a company based in Houston, US, supplied subsea production equipment for the project, including multiple clamp connection systems, subsea distribution equipment, MEG filter modules, and subsea manifolds.
Sweden-based engineering group Sandvik supplied stainless steel tubes for the umbilicals, while GATE Energy offered commissioning services for the project.
Bay, a company based in Texas, US, built the gas rig staff's living quarters module. Israel-based Habonim supplied more than 10,000 valves for the project, including control valves, Trunnion mounted ball valves, standard valves, and compact actuators.
Allseas, an offshore pipelay and subsea construction services provider, was involved in laying the subsea transmission pipeline for the project.
Schlumberger supplied and installed a 2,200t monoethylene glycol reclamation unit (MRU) for the project.
OneSubsea, a subsidiary of Schlumberger, supplied 10,000-psi horizontal production trees, tree-mounted controls, off-tree controls, and topside controls for the Leviathan gas field.
"Karish/Tanin"
Project : Offshore Natural Gas Field
Location : The Mediterranean Sea, Israel
Reserves : 85 BCM
Operation Start : 2021 (est.)
Shareholders:
Energean (O&M) 100.0%
Construction:
TechnipFMC has been appointed as the Concept and Front End Engineering Design (FEED) contractor for the Karish and Tanin development program (2017).
TechnipFMC has been awarded a lump sum EPCIC Contract. Stena Drilling completed the drilling of three development wells during 2019.
Energean has decided to develop the Israeli fields using the "Energean Power" FPSO (Floating Production Storage Offloading) that will be installed 90 km offshore, making it the first FPSO ever to operate in the Eastern Mediterranean. The FPSO will have a gas treatment capacity of 800 MMscf/day (8 BCM/per annum) and liquids storage capacity of 800,000 bbls, which the Company believes provides a flexible infrastructure solution and, potentially the scope to expand output for potential additional projects.
Energean Israel, is the Operator of the Karish and Tanin leases, offshore Israel, having a 100% working interest. The Karish and Tanin fields are world class assets with 2,1 TCF of natural gas and 41 million barrels of light hydrocarbons liquids 2P reserves. The Karish Main Development envisages drilling three wells, using a new Floating Production Storage and Offloading (FPSO) unit that will be installed approximately 90 km away from shore, with 800 mmscf/day capacity. First gas is expected in 1H 2021.